These lemon shortbread bars are filled with an amazing amount of delicious and bright lemony flavor.


Welcome to #LemonWeek 2022 hosted by Lynn from Fresh April Flours and Rebecca from Devour Dinner. This week is sponsored by Rodelle and La Tourangelle. I received product samples from these sponsors to help in the creation of my recipes. All opinions are my own. Come join me and my fellow Lemon Week bloggers as we bring you recipes from appetizers to drinks to entrées and desserts!
These lemon bars are flavored with lemon zest, lemon juice, and lemon extract. To top it off, they are iced with a lemon zest and lemon juice infused glaze, making them extra lemony!
Shortbread cookies are so easy to make and you can even make the dough in advance. They are sweet and crumbly and just melt-in-your-mouth when you take a bite. Plus, they stay fresh for days if you keep them in an air tight container.



These lemon shortbread bars are pretty foolproof. You will need flour, butter, granulated sugar, confectioner's sugar, cornstarch, and salt, along with the lemon zest, juice, and extract. You probably already have the ingredients on hand. There are no eggs and no leavening, which is one reason why they are so tender and crumbly.
How to make these lemon shortbread bars:
First, you prepare a 9-inch square cake pan with foil or parchment paper along with spray oil. I used baking spray from one of our sponsors, La Tourangelle.
Next, you combine the flour and cornstarch in a bowl and then process the butter in a food processor with the sugars and lemon zest until everything is fluffy.
After that, you sprinkle in the flour mixture and pulse until everything is combined. Chill the dough for about 30 minutes and then press it into the pan, making sure it is flat and even from edge to edge. Bake the dough at 300 degrees F for about 40 minutes. Let cool.
Finally, prepare the glaze and spread it over the top of the baked square, and then cut the square into bars with a large sharp knife.


Did I mention that they are crumbly?
Tools I Used to Make these Shortbread Bars:
Both the shortbread and glaze call for a food processor. I used a standard food processor for the dough and a mini food processor for the glaze. You really don't "need" the mini food processor, but I seem to use mine a lot!
My favorite 9-inch square cake pan is USA Pan because the corners are squared and the pan is not too dark.
For zesting the lemons, I love both Microplane and Deiss. Both tools are great for Parmesan, ginger, and garlic as well. Both of these tools will ensure that you only zest the flavorful yellow part and not the bitter pith of the lemon. Plus, they seem to stay sharp forever.


Recipe Variations:
For the butter, I used unsalted. If you use salted butter, you should eliminate the salt in the recipe.
You could also substitute another citrus fruit, such as orange or grapefruit. The orange flavor would be lovely dipped in chocolate rather than iced with the glaze.


Store these shortbread bars in an airtight container at room temperature for up to 10 days layered between sheets of wax paper. You can also freeze them for up to 30 days.
Welcome to Lemon Week! We are sharing recipes, sweet and savory, starring lemon.
***After the recipe, be sure to check out the prizes you can win, including gourmet vanillas and other extracts from Rodelle (have you priced good vanilla lately?) and handcrafted oils from La Tourangelle.
Monday #LemonWeek Recipes
Lemon Shortbread Bars
Prep time: 20 Min
Cook time: 45 Min
Inactive time: 30 Min
Total time: 1 H & 35 M
These lemon shortbread bars are filled with an amazing amount of delicious and bright lemony flavor.
Ingredients
For the Shortbread
215 grams (1 1/2 cups) all purpose flour
1/3 cup cornstarch
1/2 cup confectioner's sugar
2 1/2 tablespoons granulated sugar
2 tablespoons lemon zest
3/4 cup (1 1/2 sticks) unsalted butter, slightly softened and cut into tablespoon-size slices.
1/4 teaspoon salt
2 teaspoons fresh squeezed lemon juice
1/2 teaspoon lemon extract
For the Glaze
2 tablespoons granulated sugar
1 teaspoon lemon zest
1 1/2 tablespoons fresh lemon juice
1 teaspoon light corn syrup
1 cup confectioner's sugar
Instructions
To Make the Shortbread
Spray a 9 inch square cake pan with spray oil and line it with foil or parchment and then spray the foil or paper. Make sure you leave a two inch overhang on two sides in order to lift the cookie out of the pan after it has baked and cooled.
In a medium bowl, whisk together the flour and cornstarch.
In the bowl of a food processor, process the confectioner's sugar, granulated sugar, and lemon zest until the sugar is yellow, about 3 minutes. Scrape down the sides of the bowl as needed.
Add the butter, salt, lemon juice, and lemon extract and process for about a minute, until fluffy.
Spread the flour mixture over the top of the butter mixture and pulse until everything comes together, scraping down the sides of the bowl as needed.
Turn the dough out onto plastic wrap and form it into a 6-inch disk. Wrap the disk in the plastic wrap and refrigerate it for about 30 minutes.
In the meantime, heat the oven to 300 degrees F with a rack in the center of the oven.
Press the dough into the prepared cake pan so that it is even from edge to edge. Top it with was paper and use your hands, a mini roller, or the bottom of a glass to make sure that the dough is flat, smooth, and even. Remove the wax paper.
Bake the dough for 37 to 45 minutes, until the edges just begin to lightly brown. Let the pan cool on a wire rack completely.
Using the overhang from the foil or paper, lift the shortbread out of the pan and place it on a cutting board. Gently slide the paper out from under the shortbread and discard.
To Make the Glaze and Cut the Bars
In a food processor, combine the granulated sugar and lemon zest and process for about a minute, scraping the sides as needed. The sugar should be light yellow. Add the lemon juice and corn syrup and process until the sugar is liquid.
Add the confectioner's sugar and process until incorporated. If necessary, add more lemon juice, a few drops at a time, until the glaze is fluid and easily spreadable but not liquidy.
Immediately pour and the glaze over the shortbread and spread it end to end with an offset spatula. Let sit for five minutes.
Using a large sharp chef's knife, cut the shortbread into 3 columns, 3 inches across. Cut each column into 6 equal sized bars. Separate the bars gently with the knife and let sit until the glaze has set and hardened.
Store in an air tight container in a single layer or between layers of wax paper.
Karen's Kitchen Stories
Cookies, lemon
Dessert
Did you make this recipe?
Recipe adapted from The All-American Cookie Book, published in 2001. It's a classic!
Check out the amazing prizes you can win in our #LemonWeek Giveaway!
Prize #1: Rodelle Prize Pack
Rodelle Prize Pack includes:
2 count Gourmet Madagascar Vanilla Beans
2oz Almond Extract
4oz Natural Baker's Extract
4oz Vanilla Paste
8oz Gourmet Vanilla Extract
25oz Organic Baking Cocoa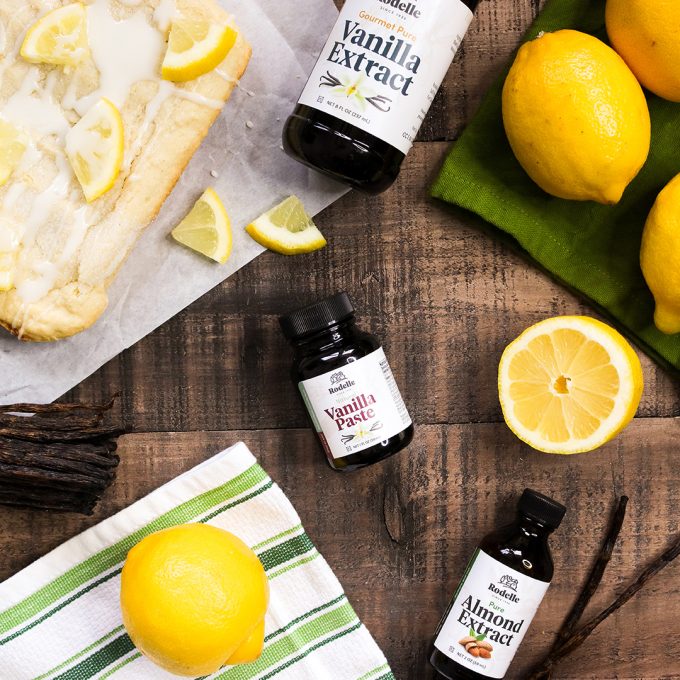 Prize #2: La Tourangelle Prize Pack
La Tourangelle Prize Pack includes:
Extra Virgin Olive Oil
Roasted Walnut Oil
Regenerative Sunflower Oil
4oz Vanilla Paste
Fleur de Sel Almond Butter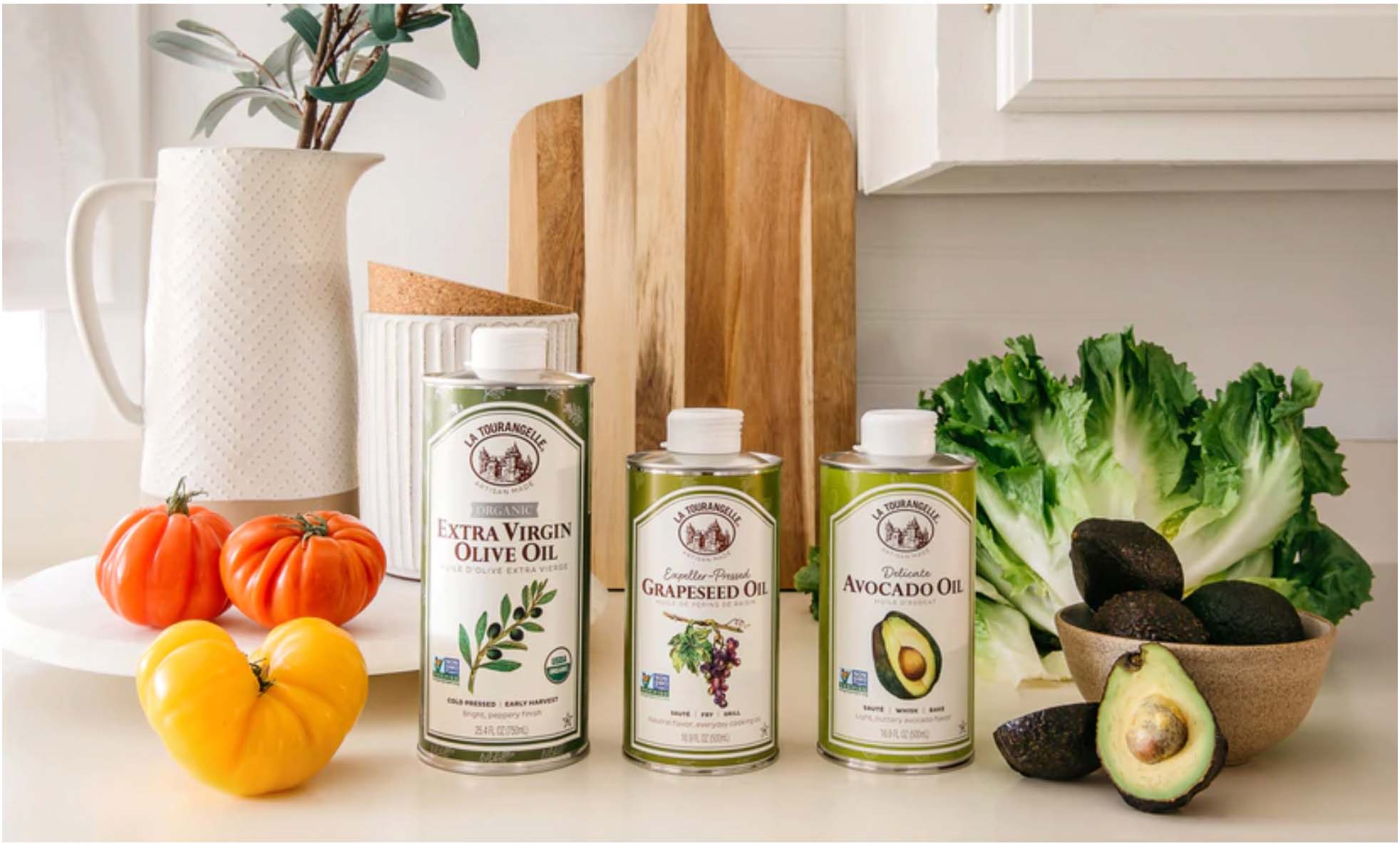 Terms and conditions: This #LemonWeek is sponsored by Rodelle and La Tourangelle which starts 5/23/2022 and ends 6/3/2022 at 11:59pm ET. Enter to win a prize pack from Rodelle or La Tourangelle that include baking and cooking ingredients. This giveaway is open to anyone 18 years or older in the United States. All entries for the winner will be checked and verified. By entering you give the right to use your name and likeness. The number of entries received determines the odds of winning. Two (2) winners will be selected and sent prize packages directly from the giveaway sponsors. The #LemonWeek bloggers are not responsible for the fulfillment or delivery of the prize packages. Bloggers hosting this giveaway and their immediate family members in their household cannot enter or win the giveaway. No purchase necessary. Void where prohibited by law. This promotion is in no way sponsored, endorsed or administered by, or associated with Facebook, Instagram, Pinterest, Twitter or any other social channel mentioned in the #LemonWeek posts or entry.